Combination Peel – Glycolic Acid 35%/ Lactic Acid 45% Combo Skin Peel- Rejuvenate & Lighten Your Complexion, Reduce Aging Signs, Wrinkles & Acne Scars
✅ RENEWS & REFRESHES – Our highly effective skin peels will gently remove the outer layer of your skin, brushing away debris and reducing excess oil. It can also get deep into the pores to help unclog it by breaking down the cellular bonds of dead skin thus pushing unsightly blackheads out.
✅ENJOY AGELESS BEAUTY: Forget about wrinkles, fine lines, spots and aging signs once and for all! This premium quality chemical peel is the ultimate defense against the aging process!
✅ ERASE BLEMISHES AND ACQUIRE A FLAWLESS COMPLEXION: Stop worrying about your dry, damaged skin that looks dull! This chemical peel will perfectly treat your complexion. Sunspots, uneven skin tone, acne scars, blackheads, whiteheads, and large pores are history for you!
✅ What Are Alpha Hydroxy Acids?
Alpha hydroxy acids are commonly found and isolated from fruits of all sorts. That is why they are referred to as fruit acids. For example, malic acid is found in apples, citric acid can be isolated from most citrus fruits and glycolic acid is commonly found in honey and sugar cane. Lactic acid is found in milk that has soured and Tartaric acid can be isolated from fermented grapes (wine).
✅ Glycolic acid works as an exfoliating agent because of its high acidity but easy solubility. When placed on the skin as part of an exfoliating cream or gel, glycolic acid goes under the damaged upper layers of skin and destroys the 'glue', which holds dead skin to the surface. As this dead skin is chemically burned off, the other ingredients carry the individual flakes away and a water rinse neutralizes the remaining acid. The result is a much-smoother skin surface and a more youthful appearance. A secondary benefit is glycolic acid's ability to draw moisturizers into the newly exfoliated skin surface.
✅ Lactic acid will help your skin fight and reduce wrinkles, fine lines, spots, and acne scars.  It helps with treating sun damage and uneven skin tone, as a result, you will acquire an unblemished, youthful, radiant skin and a rejuvenated look.
One study showed that topical treatment twice a day for 3 months with 5% glycolic acid cream at pH 2.8 affected surface and epidermal changes, while the same treatment, but with a 12% cream reached deeper and influenced both the epidermis and the deeper dermis layer, and resulted in increased epidermal and dermal firmness and thickness. Both showed clinical improvement in skin smoothness and in the appearance of lines and wrinkles. Another study showed that AHAs might thin the outer stratum corneum, but actually, end up increasing the overall thickness of the epidermis. This thickening is accompanied by increased synthesis of collagen. It is apparent that alpha-hydroxy acids may do more than just increase exfoliation and skin cell turnover.
Benefits Of AHA Peels: 
Fine lines and wrinkles
Sun-damaged skin
Dull, dry complexion
Uneven skin tone
Sun/age spots
Hyper-pigmentation
Large Pores
Freckles
Blackheads/whiteheads
Acne scarring
Tightens saggy skin
Stimulates new collagen
Smoother skin texture
Exfoliate and remove surface debris
Product Reviews
•:*¨¨*:•. •:*¨¨*:•.– Beauty Addict- Sandra Adam- September 10, 2015 (verified purchase)
I used the glycolic/ Lactic acid with a combination of essential oils & hydrating serums to make the perfect peel for my skin. Works like a charm! Its gel like consistency allows for more even spread
•:*¨¨*:•. •:*¨¨*:•.– This Item has the best of two worlds- JO Ann Wood- April 10, 2015 (verified purchase)
I had peelings done before glycol of 33% and know how to apply product. This item has the best of two worlds. Glycolic and lactic. I have used it once a week for 3 weeks now and you can tell the difference in the first use. Now my sun and acne marks are getting lighter. My skin feels better and brighter. It comes with instructions and gauze to apply. Not for first timers.
•:*¨¨*:• •:*¨¨*:•..– Excellent Product!!! – Angel Smith- April 5, 2015 (verified purchase)
I have been using this product for a couple of years now & it works well for me. The only issue is you have to be careful using it or you will damage (burn) your skin if you leave it on too long. If that happens I find that Shea butter helps with the healing process and it will return to normal.
I started using this product once a week, then 2 to 3 times a week. I also wash my face with black soap and I also use 4% hydroquinone cream every night before bed. After my face cleared up with all the blemishes, I stopped using all of the products and 2 months later I started getting acne breakouts again so now I just use these products as part of my daily regimen and I haven't had any acne breakouts.
Directions: Make a Skin Patch Test – Always do a skin patch test before applying the Glycolic Peel Solution. Choose a small area and dab on the peel solution. Watch the area for blistering and intense burning for about 2 to 3 minutes. There will be a mild burning and general redness. Clean the area you are treating with Skin Beauty Solution Cleanser. Rinse with clean warm water and gently pat dry. Apply a small amount of Glycolic Peel solution to the areas cleansed and toned (Do not rub into skin). Leave on for recommended amount of time. Rinse product from skin with cool clean water mixed with a pinch of baking soda to neutralize and pat dry. Finishing with a Skin Beauty solutions Moisturizer to treated areas. Specially designed for the restoring of skin after your peel treatment.
Which Chemical Peel Should I use?
Lactic Acid Skin Peel- This Peel is great for those who are new to Skin Chemical Peels, it will exfoliate dead skin cells which will give a brighter, even skin tone at the end. Great for All Skin Types
Glycolic Acid Peel (Buffered)- This Peel will exfoliate the skin and is great for First-time Glycolic users. This will help to exfoliate the top layers of dead skin cells. Great for Aging Skin, Wrinkles, Large Pores, Dry Skin.
Glycolic Acid Peel (Unbuffered)- This is a low PH Glycolic Acid and should only be used by those who have used Lactic and Glycolic Buffered in the past and can tolerate a stronger peel. The Glycolic Acid Peel Unbuffered is a strong exfoliator and will help those who suffer from Acne, Blackheads, Oily Skin.
Glycolic/Lactic Combination Peel- The combination has both the benefits of the Glycolic Acid Unbuffered Peel and the Lactic Acid. This should only be used by experienced users, and for those with Mature Skin, Acne, Scars.
Salicylic Acid Peel– This is Peel will help congested pores and will penetrate into clogged pores to remove dirt and oil. It can be used more frequently than the other peels without much risk for irritation. Great for Oily, Acneic Skin types. Should only be used by those who have experience with Glycolic Peels.
FAQ: What Should I expect?
AHAs can produce some redness with little or no flaking, depending on the individual. Most of the time, AHA peels will require no downtime, so you can resume normal daily activities immediately.
How long do chemical peels take? Most peels can be performed within a few minutes, depending on the size of the area being treated.
How are chemical peels performed? There are numerous chemical peels and each one is performed differently. In general, chemical peels usually begin with vigorous cleansing of the skin, followed by application of the appropriate peel.
What should I use at home to maintain the condition of my skin after a chemical peel? After the peel, it is important to keep your skin moisturized for faster healing. It is recommended to apply a moisturizer free from fragrances or exfoliants. We recommend our All-Natural Squalane Oil or Niacinamide B3 serum.
Caution: Misuse of products containing Glycolic Acid or Lactic Acid can cause injury or burns to the skin. Directions must be followed carefully, and the following are some important reminders for use of Glycolic peel products: Always perform a patch test in an inconspicuous area and wait 24 hours to observe signs of irritation before using any product. Directions must be followed exactly. Do not leave on longer than the directions state. To do so risks skin injury. Do not use the higher strengths of Glycolic Acid Peels if pregnant or nursing and consult your Physician before use for any other product. Do not use if you have undergone recent Chemotherapy treatment or Accutane Treatment. Consult your Physician if you have any questions regarding the use of a product with any illness or condition you may have. Always use a sunscreen of SPF 15 or greater when on a Glycolic treatment program or any exfoliating program. Do not use any products around the eyes unless it is a product specifically for the eye area. If excessive irritation or stinging occurs with any product, rinse off immediately and discontinue use when in doubt about what to do, consult a physician.
Sunburn Alert: This product contains an alpha hydroxy acid (AHA) that may increase your skin's sensitivity to the sun and particularly the possibility of sunburn. Use a sunscreen, wear protective clothing, and limit sun exposure while using this product and for a week afterward.
Ingredients:
MD Grade Glycolic Acid, Lactic Acid, Sodium Lactate,  and Deionized water
100% MONEY BACK GUARANTEE -WORKS OR YOUR MONEY BACK – Manufacturer's Guarantee: We back our products up with a 60-day hassle-free money back guarantee, no matter where you buy our product. There is absolutely no risk to you when you order now! If you are not completely satisfied, simply contact us and we will give you a full refund, no questions asked.  Our #1 priority is to make sure our customers are completely happy.
High Quality, Low Price– We don't spend much money advertising, so we keep our costs down and can pass those savings onto you!
MADE IN USA – Skin Beauty Solutions Products Are Proudly Formulated Right Here In the USA in an FDA Registered Laboratory and Are Never Tested On Animals and are always Cruelty Free
Skin Beauty Solutions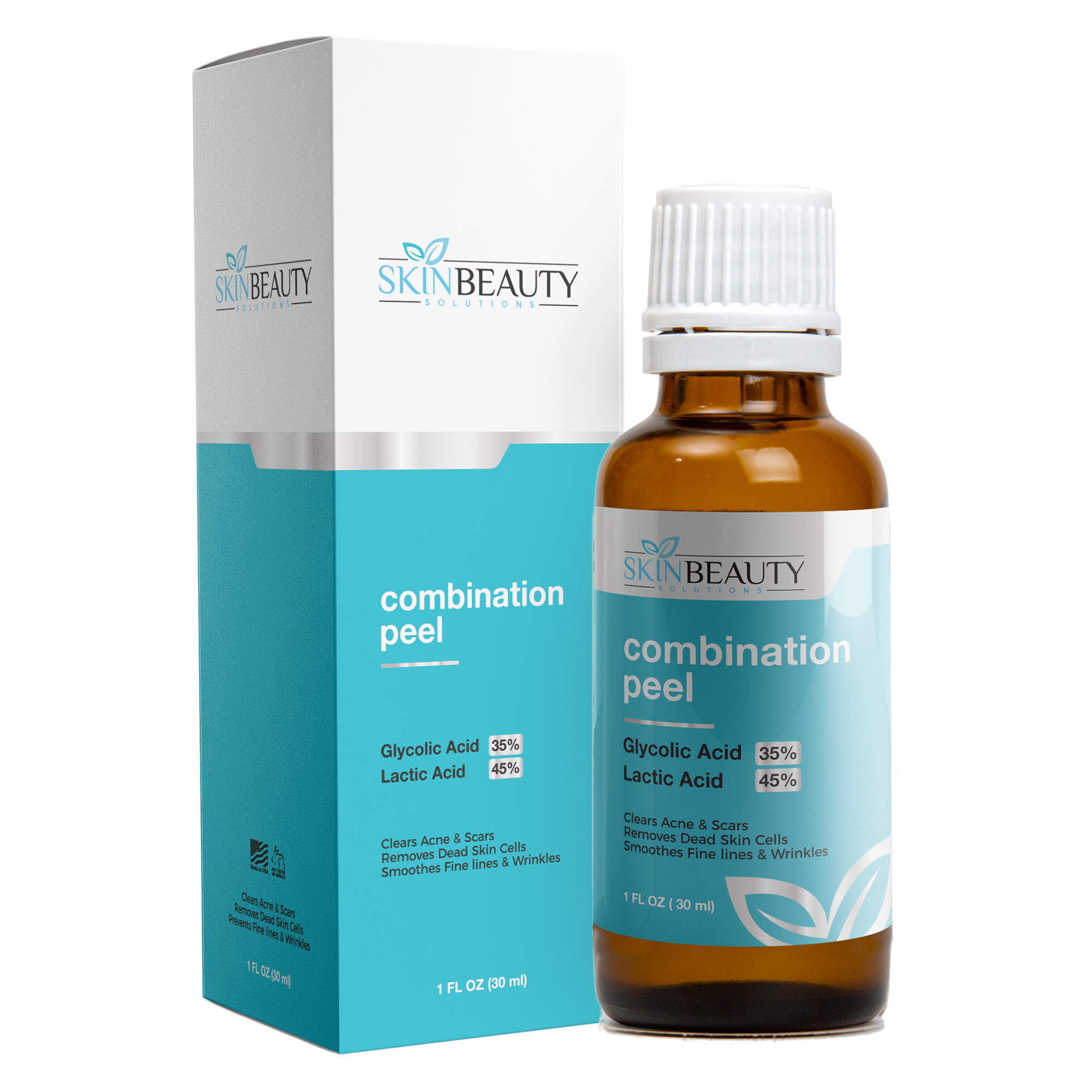 Rating





Brand Name
Product Name
Price
Product Availability