Lactic Acid Chemical Skin Peel By Skin Beauty Solutions – Natural, Non-Toxic, Safe Alpha Hydroxy Acid – Rejuvenate & Lighten Your Complexion, Reduce Aging Signs, Wrinkles & Acne Scars
REJUVENATE YOUR SKIN with the all new lactic acid skin peel -acquire a stunning, youthful complexion, an even skin tone, and a clear skin.
ENJOY AGELESS BEAUTY: Forget about wrinkles, fine lines, spots and aging signs once and for all! This premium quality chemical peel is the ultimate defence against the aging process!
ERASE BLEMISHES AND ACQUIRE A FLAWLESS COMPLEXION: Stop worrying about your dry, damaged skin that looks dull! This lactic acid chemical peel will perfectly treat your complexion. Sun spots, uneven skin tone, acne scars, blackheads, whiteheads and large pores are history!
SETTLE FOR NOTHING LESS THAN THE BEST: This incredible skin exfoliator includes lactic acid, one of the hydroxy acids, also known as fruit acids that are used by dermatologists and aestheticians to naturally and safely soften the skin.
A MUST HAVE FOR YOU: No matter what your age or skin type is, this skin peel comes in four different strengths for your skin tolerance.
Dust, dirt, harmful sun rays, sweat, makeup residue build-up and bacteria! It is no wonder why your skin looks tired, dull and aged!
Lactic acid skin peel will gently exfoliate your complexion's outer layer, removing dead skin cells and dirt build-up.
Lactic acid will help your skin fight and reduce wrinkles, fine lines, spots and acne scars. It helps with treating sun damage and uneven skin tone, as a result, you will acquire an unblemished, youthful, radiant skin and a rejuvenated look.
What Are Alpha Hydroxy acids?
Alpha-hydroxy acids are commonly found and isolated from fruits of all sorts. That is why they are referred to as fruit acids. For example, malic acid is found in apples, citric acid can be isolated from most citrus fruits and glycolic acid is commonly found in honey and sugar cane. Lactic acid is found in milk that has soured and Tartaric acid can be isolated from fermented grapes (wine).
Lactic acid works as an exfoliating agent because of its high acidity but easy solubility. When placed on the skin as part of an exfoliating cream or gel, lactic acid goes under the damaged upper layers of skin and destroys the 'glue', which holds dead skin to the surface. As this dead skin is chemically burned off, the other ingredients carry the individual flakes away and a water rinse neutralizes the remaining acid. The result is a much-smoother skin surface and a more youthful appearance. A secondary benefit is lactic acid's ability to draw moisturizers into the newly exfoliated skin surface.
One study showed that topical treatment twice a day for 3 months with 5% lactic acid cream at pH 2.8 affected surface and epidermal changes, while the same treatment, but with a 12% cream reached deeper and influenced both the epidermis and the deeper dermis layer, and resulted in increased epidermal and dermal firmness and thickness. Both showed clinical improvement in skin smoothness and in the appearance of lines and wrinkles. Another study showed that AHAs might thin the outer stratum corneum but actually end up increasing the overall thickness of the epidermis. This thickening is accompanied by increased synthesis of collagen. It is apparent that alpha-hydroxy acids may do more than just increase exfoliation and skin cell turnover
How does a chemical peel work?
Chemical peels work by loosening and gently sloughing off the damaged, unattractive skin cells. Depending on the strength of the peel, you may feel a slight tingling or the mild sting of sunburn. Flaking may occur several days following the peel as the damaged skin is freed and new, unblemished skin cells rise to the surface. Lactic Peels can also work on the deeper layers of skin to accelerate the skin's natural production of collagen and elastin.
Lactic Acid is a naturally occurring human metabolite, there is less potential for allergic reaction with this type of acid peel.
Lactic Acid is said to be less harsh and more moisturizing than Glycolic Acid skin peels.
Lactic is one of the Alpha Hydroxy acids (fruit acids). Fruit acids are nontoxic, naturally occurring substances, and are found in a variety of fruits, such as grapes, apples and sugar cane. Other fruit acids are Citric, Malic, Glycolic and Pyruvic Acids.
Effective: Lactic Acid is a thorough exfoliator, removing the outer layers of thickened or damaged skin, leaving a smoother and healthier appearance.
With prolonged use, Lactic Acid has been found to be beneficial in improving dry skin, treating age spots, improving oily and acne prone skin, and decreasing fine lines and wrinkles.
Benefits Of Lactic Acid Peels:
Fine lines and wrinkles
Sun-damaged skin
Dull, dry complexion
Uneven skin tone
Sun/age spots
Hyper-pigmentation
Large Pores
Blackheads/whiteheads
Acne
Acne Scarring
Lactic Acid has been beneficial in improving dry skin, treating age spots, decreasing facial lines, and rejuvenating the skin's surface. Dermatologists and estheticians have been utilizing lactic acid as an effective and proven tool in the fight against the aging process.
Product Reviews
:*¨¨*:•. •:*¨¨*:•.  By Patient and you WILL see results
By Teresa on October 22, 2015 (Verified Purchase)
The Lactic Acid 90% skin peel is a wonderful addition to your skin care regimen IF USED CAREFULLY! I admit that I made a few mistakes when I first tried this. I started out by leaving it on for one minute and got a nice rosy complexion for a few days. Two minutes gave me good results as well. It was when I hit four minutes that I started getting some minor burning (easily covered with make-up), which went away in a few days.
Don't be surprised if this peel aggravates existing lesions on your face the first couple of times you use it, but be patient and each time you use it the results will get better.
Yes, it burns, but a hair dryer on a cool setting goes a long way in cooling your fiery face. Be sure to keep a bottle of water with a little baking soda in it close-by; putting this on your face immediately will neutralize any acid that remains on your face.
I use this about once a week for about three minutes at a time. It has resulted in a definite improvement in skin tone and texture.
:*¨¨*:•. •:*¨¨*:•.  Pores, Dark Spots, Wrinkles and Oiliness are Gone
By Elena September 5, 2016 (Verified Purchase)
Ok, I don't really take time to write reviews, but oi decided to take some time for this product. I have melasma (severe pigmentation on my face), and this is the stuff that helps to keep it under control. I make this mask once a week, every other week, alternating with the glycolic acid mask. have to say, that it burns pretty bad, I started for a 5 min for like a month and then got to the 10 min masks.
I stand in front of the open freezer with a manual fan in my hands the entire time, it just makes it much more bearable this way. the effect of these masks worth the pain of the 10 min! first, I should mention that I have some breakouts and also an extremely oily skin, especially during the hot summer days. my makeup runs off my face within a couple of hours.not anymore. Using this product keeps my melasma and my oiliness under control, also it dries out any little pimples that come out on the rare occasion. But I think the best effect of this product is that it minimizes my pores and gets rid of fine lines and wrinkles.
I am 29 and the fine lines around my eyes started to appear, this stuff literary erases it all! So happy! The pores on my t-zone go away and the makeup goes on so smooth and looks 100 times better! So I would really recommend to use it if u have similar problems to mine. and it is much cheaper than the salon visits, where they really are doing the same thing! if u r willing to take the little pain for the great results, please do, u wouldn't regret it. I do it on Friday night since after the mask ur face will have a minimal peel and needs to be protected from the sun, the more the better, and the makeup wouldn't look very smooth on it, but by Monday it looks fabulous!
Which Chemical Peel Should I use?
Lactic Acid Skin Peel-
This Peel is great for those who are new to Skin Chemical Peels, it will exfoliate dead skin cells which will give a brighter, even skin tone at the end. Great for All Skin Types
Glycolic Acid Peel (Buffered)-
This Peel will exfoliate the skin and is great for First-time Glycolic users. This will help to exfoliate the top layers of dead skin cells. Great for Aging Skin, Wrinkles, Large Pores, Dry Skin .
Glycolic Acid Peel (Unbuffered)- This is a low PH Glycolic Acid and should only be used by those who have used Lactic and Glycolic Buffered in the past and can tolerate a stronger peel. The Glycolic Acid Peel Unbuffered is a strong
exfoliator, and will help those who suffer from Acne, Blackheads, Oily Skin.
Glycolic/Lactic Combination Peel-
The combination has both the benefits of the Glycolic Acid Unbuffered Peel and the Lactic Acid. This should only be used by experienced users, and for those with Mature Skin, Acne, Scars.
Salicylic Acid Peel–
This is Peel will help congested pores and will penetrate into clogged pores to remove dirt and oil. It can be used more frequently than the other peels without much risk for irritation. Great for Oily, Acneic Skin types. Should only be used by those who have experience with Glycolic Peels.
FAQ: What Should I expect?
AHAs can produce some redness with little or no flaking, depending on the individual. Most of the time, AHA peels will require no downtime, so you can resume to normal day activities immediately.
How long do chemical peels take? Most peels can be performed within a few minutes, depending on size of the area being treated.
How are chemical peels performed? There are numerous chemical peels and each one is performed differently. In general, chemical peels usually begin with vigorous cleansing of the skin, followed by application of the appropriate peel.
What should I use at home to maintain the condition of my skin after a chemical peel?
After the peel, it is important to keep your skin moisturized for faster healing. It is recommended to apply a moisturizer free from fragrances or exfoliants. We recommend our All-Natural Squalane Oils or Niacinamide B3 Serum.
Caution: Misuse of products containing Glycolic Acid or Lactic Acid can cause injury or burns to the skin. Directions must be followed carefully, and the following are some important reminders for use of AHA peel products: Always perform a patch test in an inconspicuous area and wait 24 hours to observe signs of irritation before using any product. Directions must be followed exactly. Do not leave on longer than the directions state. To do so risks skin injury. Do not use the higher strengths of Lactic Acid Peels if pregnant or nursing and consult your Physician before use for any other product.
Do not use if you have undergone recent Chemotherapy treatment or Accutane Treatment. Consult your Physician if you have any questions regarding the use of a product with any illness or condition you may have. Always use a sunscreen of SPF 15 or greater when on a Lactic Acid treatment program or any exfoliating program. Do not use any products around the eyes unless it is a product specifically for the eye area. If excessive irritation or stinging occurs with any product, rinse off immediately and discontinue use when in doubt about what to do, consult a physician.
Sunburn Alert:
This product contains an alpha hydroxy acid (AHA) that may increase your skin's sensitivity to the sun and particularly the possibility of sunburn. Use a sunscreen, wear protective clothing, and limit sun exposure while using this product and for a week afterward.
Ingredients: Lactic Acid, Deionized water, sodium lactate.
100% MONEY BACK GUARANTEE-WORKS OR YOUR MONEY BACK – Manufacturer's Guarantee: We back our products up with a 60-day hassle-free money back guarantee, no matter where you buy our product. There is absolutely no risk to you when you order now! If you are not completely satisfied, simply contact us and we will give you a full refund, no questions asked. Our #1 priority is to make sure our customers are completely happy.
High Quality, Low Price– We don't spend much money advertising, so we keep our costs down and can pass those savings onto you!
MADE IN USA – Skin Beauty Solutions Products Are Proudly Formulated Right Here In the USA in an FDA Registered Laboratory and Are Never Tested On Animals and are always Cruelty Free
Skin Beauty Solutions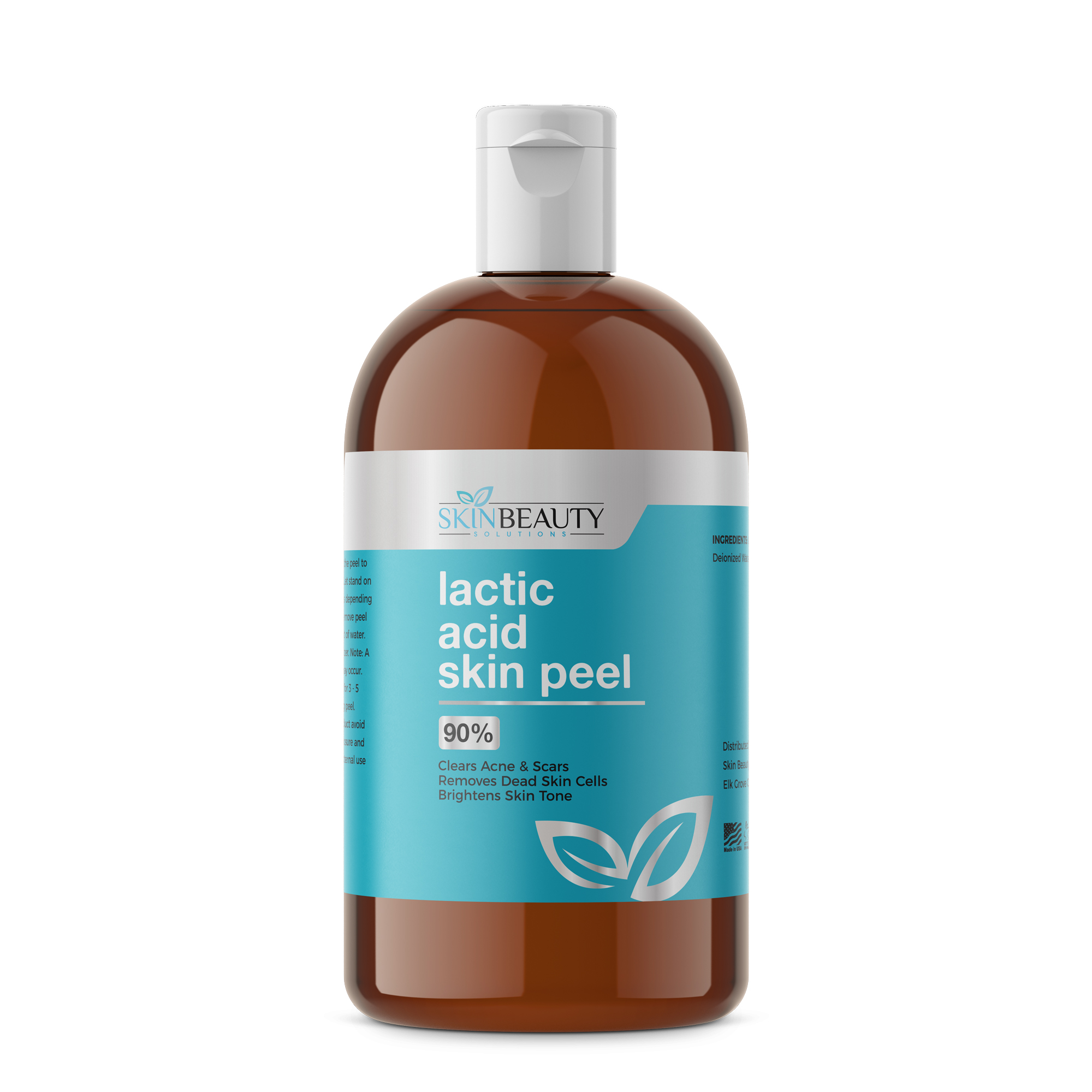 Rating





Brand Name
Product Name
LACTIC Acid Skin Chemical Peel
Price
Product Availability