SALICYLIC ACID  SKIN CHEMICAL PEEL W/ BETA HYDROXY (BHA) BY SKIN BEAUTY SOLUTIONS – 
IDEAL FOR ACNE, BLACKHEADS, DERMATITIS, 
WHITEHEADS, CLOGGED PORES & WARTS – FOR OILY SKIN
***RENEWS & REFRESHES –
Our highly effective skin peel will gently remove the outer layer of your skin, brushing away debris and reducing excess oil. It can also get deep into the pores to help unclog it by breaking down the cellular bonds of dead skin thus pushing unsightly blackheads out.
***TRULY A SKIN SAVIOUR –
Salicylic Acid is a naturally occurring beta hydroxy acid (BHA) that can help with skin problems. It exfoliates by breaking the bonds that keep dead cells together clogging pores, which eventually leads to acne, blackheads, and whiteheads.
*** EFFECTIVELY TREAT MULTIPLE SKIN CONDITIONS!  –
Help reduce acne inflammation and scars, sun damage, blemishes, blackheads, whiteheads, acne, scars, sun damage, blemishes, psoriasis and clogged pores – all with one simple treatment!
***IDEAL FOR OILY & SENSITIVE SKIN –
Salicylic Acid is oil soluble and can get through your skin's lipid barrier and deep down beyond the surface and into your pores. Once there, it quickly removes excess sebum and dead cells, which are clogging the pores before they even get a chance, to erupt in pimples.
***HEPING HANDS 
Our chemical peel also contains Glycol & Alcohol, two organic alcohols that clean the skin and allow for an efficient peel. It also includes Hexylene Glycol, a solvent and viscosity agent that helps make our chemical peel spreadable and easy to use.
 Here are more benefits that your skin will enjoy when using our skin peel:
✅ It can be used more frequently than other peels.
✅ Does not include any artificial colors, fragrance, fillers and more.
✅ We are so confident you will love your renewed skin once you start seeing the results that we are giving a 30-day money back guarantee in the rare case you face ANY issues with your purchase.
Why Buy from Skin Beauty Solutions?
All of our products including our Skin Peels are made with high quality, cosmetic grade ingredients.
Our Salicylic Peels have only the main ingredients for best results;
We do not add any colors, fragrances, fillers or any other unnecessary preservatives or ingredients.  Pure and Simple
What is Salicylic Acid:
Salicylic Acid is a great keratolytic which means it helps loosen the bonds between skin cells to promote exfoliating. It is the only hydroxy acid which is oil soluble which allows it to penetrate into clogged pores. It can be used more frequently than the other peels without must risk for irritation.
SKIN CONCERNS:
LIGHT SCARS
AGING SKIN
WARTS
ACNE VULGARIS
LESIONS UNDER THE SKIN (TRAPPED OIL)
LIP CREASES
LIGHT SCARS
HYPERPIGMENTATION
WHITE SPOTS
BLACK SPOTS
LIVER SPOTS
SUN DAMAGED SKIN
CONTROLS ALL TYPES OF ACNE
DULL AND WORN SKIN
RINGWORM
TINEA CAPITIS
FEET AND BODY FUNGUS
ATHLETES FOOT
Properties Of Salicylic Acid:
Oily skin is prone to blackheads, breakouts, and large pores – especially in the T-zone (forehead, nose and chin areas). Salicylic acid, a beta-hydroxy acid is a highly effective superficial peeling agent and pore cleanser. It loosens and removes aging cells, oil and debris attached to the skin's surface. Stimulates new cell production and increased collagen formation. Is oil-soluble and lipophilic, thus it is able to penetrate sebum filled follicles and clean out clogged pores, resulting in marked improvement in acne prone skin.
The 10% solution can be used every few days, or as needed, to keep pores clear and oily skin under control.
The 20% solution is highly effective in controlling excess oil output and deep cleansing the pores. It should not be used more than 1x per week.
The 30% solution For use only after you have acclimated your skin to the 20% peel. This is not a mild solution.
Revive Your Skin & Enjoy The Amazing Effects Of  Salicylic Acid Peel Brought To You By Skin Beauty Solutions!
Are you looking for a high-end quality chemical peel to help you battle against your oil, acne-prone skin?
Have you tried multiple similar products in the past but ended up being disappointed at their ineffectiveness?
Would you opt for a superior peeling solution that will revive your skin, clean your pores, and reduce your acne, without costing you a fortune?
If so, then Skin Beauty Solutions has the solution to your skin care problems!
Our chemical peel contains four powerful ingredients that will help renew your skin, loosen and remove aging cells, oil, and debris, and leave it perfectly soft and healthy!
Salicylic Acid: A peeling agent that helps with skin conditions such as acne, warts, calluses, corns, psoriasis, seborrhea dermatitis, dandruff, ichthyosis and much more! It is oil-soluble and lipophilic, so it penetrates sebum-filled follicles and cleans them out!
Propylene Glycol & Alcohol: Both are organic alcohols that clean your skin and allow the peel to be more efficient.
Hexylene Glycol: A solvent and viscosity agent that makes the peeling spreadable and easy to use.
Using our chemical skin peel is a breeze!
Simply apply the peel to the area you wish to treat, let it stand for two to ten minutes (depending on your skin's tolerance), and then remove the peel with a copious amount of water. Don't forget to apply your moisturizer as well!
You may feel a stinging sensation – don't worry, it's absolutely normal! Flakiness may occur for three to five days after your treatment. We also strongly advise you to avoid unnecessary sun exposure while using this product; and if you can't, always use a high-SPF sunscreen.
PRECAUTIONS:
You currently use Accutane (Isotretinoin) or have in the past 6 months
Pregnant or Lactating
Have a tendency to keloid (type of deep scar)
Have herpes simplex (sexual transmitted disease)
If you are HIV positive or have AIDS
Undergoing chemotherapy or radiation
Do not apply Salicylic to areas in which you have used hair removal products in the last 3 days
Discontinue acid based products such as acne face washes, exfoliators for 2 weeks post treatment
Visit our onllineweb at SkinBeautySolutions for instructions, disclaimer, and warning.
Salicylic in Depth
Salicylic became a prominent and respected member of the skin care community in 1997 at the American Academy of Dermatology where dermatologists confirmed their belief that beta hydroxy, (salicylic acid) is the next generation of products for improving the appearance of aging skin. After reviewing comprehensive data, the dermatologists agreed that beta hydroxy, salicylic acid is a superior exfoliate that improves the appearance of aging, sun-damaged skin without all the irritation associated with the popular alpha hydroxy, glycolic acid.
Dr. Albert Kligman, professor emeritus of dermatology at the University of Pennsylvania School of Medicine:
"Salicylic acid is effective in reducing the appearance of fine lines and wrinkles, and improving overall facial texture because it exfoliates both the skin surface and within pores, without all the irritation commonly associated with the alpha hydroxy, glycolic acid." It has been found that beta hydroxy, salicylic acid is effective with as little as one-fifth the concentration typically found in products containing glycolic acid, the most commonly used alpha hydroxy acid.
The superior exfoliation action of Salicylic Acid is thought to be attributed to its lipid- or oil-solubility. It concentrates its exfoliating action in the lipid-rich outer layers of the skin where the skin's natural rate of exfoliation reduces with aging, causing a buildup of dry, dull skin flakes. According to Dr. Kligman, betas also exfoliate within the pores, a benefit not seen with the glycolic acid product tested.
Directions:
Apply a few drops of the Salicylic Acid solution to gauze pad and buff skin gently in a circular motion. After 30 seconds, rinse with cool water. Note a frosting and tingling sensation may occur and this indicates product is exfoliating the skin. If redness or irritation occurs discontinue use. FDA Guidelines for the use of Salicylic Acid are: 1.Test any product that contains a BHA on a small area of skin before applying it to a large area. If you use cosmetics with BHAs and experience skin irritation or prolonged stinging, stop using the product and consult with your physician. 2. Follow the instructions on the label. Do not exceed the recommended applications. 3. Avoid using BHA-containing products on infants and children. 4. Use sun protection if you use a BHA product.
Product Reviews:
:*¨¨*:•. •:*¨¨*:• Greatest Thing for My Face
By Kristin January 28, 2014 (Verified Purchase)
I love this product. It isn't too uncomfortable and it does the job exceptionally! I had very mild acne but a lot of blemishes bc I would pick at them but now my face is smooth and I have had 0 breakouts since I started using this 2.5 weeks ago. I don't think I will be going higher in percent. As long as you FOLLOW THE DIRECTIONS….you should have little to no peeling.
:*¨¨*:•. •:*¨¨*:• First review beacuse its just so amazing, Beware it really stings
By Jessie  September 21, 2015  (Verified Purchase)
I've tried everything from drugstore to high end, and this is the first thing I've tried that's done miracles. First Amazon review because its just so amazing. Beware it really stings. Most acne creams contain 1-2% salicylic acid (which is the main ingredient that helps acne) but this is 20% so it is very intense and even painful especially the first times. Make sure you have baking soda at hand to deactivate the acid. It includes a detailed instruction sheet so all is good. If it helps, I work as a model and skin is everything to me. It was recommended to me by a makeup artist
:*¨¨*:•. •:*¨¨*:• Im in Love with this Stuff
By Austin January 6, 2017 (Verified Purchase)
I am in love with this stuff! I get the cystic type of acne especially on my neck and jawline and this stuff has cleared my whole face. My face used to break out so bad right before my period and now this time i only got 2!!! other than that my face is completely clear! Also i notice it does help with scars. I just purchased the 35% glycolic acid and have used it twice and noticed an even bigger difference in my scars! My makeup goes on soo much smoother. Please if u suffer from acne especially cystic acne purchase this product.
:*¨¨*:•. •:*¨¨*:• It honestly is not that bad
By JB September 30, 2013 (Verified Purchase)
Like several others, I held on to this for quite a while before using it because I was scared of the reaction. I'm 40 JWM with fair skin, a shaved head for the last 10 years, and lots of sun damage. I've always had troubled skin and have paid a fortune for everything from IPLs to peels to literally every topical available OTC and Rx including Obagi and Retin-A. My biggest problem is that I'm oily, I sweat very easily, and my pores can clog in a half-day. I came across an article that extolled the virtues of exfoliation, and following that advice my skin transformed overnight. I exfoliate every morning and night with Clinique's exfoliating scrub (because it's so fine) and rinse it off with Neutrogena Acne Wash and THATS IT and I'm telling you my skin is 100% improved. I do–however–still have scaly spots (solar keratoses I suspect) that just won't clear up, particularly on my forehead and scalp. After reading every single review of the 30% SA I decided to go for it. I had a good amount of stinging but no frosting. It honestly is not that bad if you have had any cosmetic procedures. I had no redness at all at any time during or after the application. I neutralized, and jumped in the shower and already dead skin was sloughing off. There was no pain or rawness for me afterward. My skin feels VERY smooth and I think with weekly, then biweekly, and monthly applications, I am really going to reverse a lot of damage. I am extremely pleased with the results so far, and I am relieved that I can take care of my skin at home between dermo visits.
Which Chemical Peel Should I use?
Lactic Acid Skin Peel- This peel is great for those who are new to Skin Chemical Peels. It will exfoliate dead skin cells which will give a brighter, even skin tone in the end. Great for all skin types.
Glycolic Acid Peel (Buffered)- This peel will exfoliate the skin and is great for first-time Glycolic users. This will help to exfoliate the top layers of dead skin cells. Great for aging skin, wrinkles, large pores, dry skin.
Glycolic Acid Peel (Unbuffered)- This is a low PH Glycolic Acid and should only be used by those who have used Lactic and Glycolic products in the past and can tolerate a stronger peel. The Glycolic Acid Peel Unbuffered is a strong exfoliator and will help those who suffer from acne, blackheads, oily skin.
Glycolic/Lactic Combination Peel- This combination has the benefits of both the Glycolic Acid Unbuffered Peel and the Lactic Acid. This should only be used by experienced users, and for those with mature skin, acne, and scars.
Salicylic Acid Peel– This peel will help congested pores and will penetrate into clogged pores to remove dirt and oil. It can be used more frequently than the other peels without much risk of irritation. Great for oily, acneic skin types.  Should only be used by those who have experience with Glycolic Peels.
Ingredients: Salicylic Acid, Propylene Glycol, Alcohol, Hexylene Glycol.
100% MONEY BACK GUARANTEE -WORKS OR YOUR MONEY BACK – Manufacturer's Guarantee: We back our products up with a 60-day hassle-free money back guarantee, no matter where you buy our product. There is absolutely no risk to you when you order now! If you are not completely satisfied, simply contact us and we will give you a full refund, no questions asked. Our #1 priority is to make sure our customers are completely happy.
High Quality, Low Price– We don't spend much money advertising, so we keep our costs down and can pass those savings onto you!
MADE IN USA – Skin Beauty Solutions Products Are Proudly Formulated Right Here In the USA in an FDA Registered Laboratory and Are Never Tested On Animals and are always Cruelty Free
Skin Beauty Solutions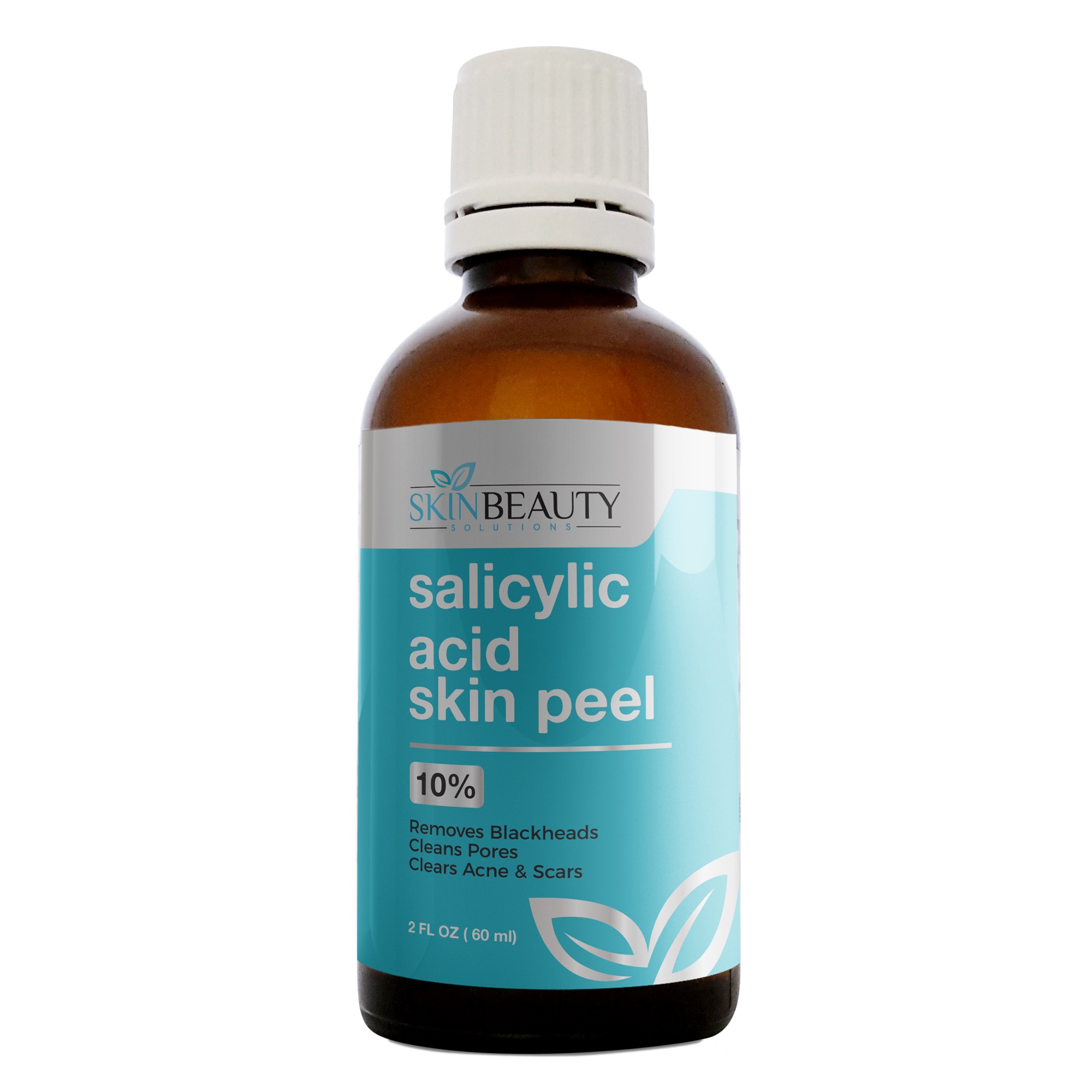 Rating





Brand Name
Product Name
SALICYLIC ACID Skin Chemical Peel 10%
Price
Product Availability