#1 Most Effective Ferulic Acid Serum– CE-ULTRA Skin Serum – Combination Antioxidant, For Anti-aging / Age prevention -(Same Ingredients As Skinceuticals Ferulic CE) 15% Vitamin C, 1% Vitamin E, and 0.5% Ferulic acid.
Problem Type/ Purpose:
Antioxidant Rich, Anti-aging, Sun Damage, Hyperpigmentation, Wrinkles, Anti-Ageing.
Skin Types:
Combination, Dry skin, Normal skin, oily skin, Erythema and Photo damaged skin.
Ferulic Acid Serum + CE is a product that uses antioxidant-rich ingredients to help improve your skin. It's the best way to protect against photo-aging by using antioxidants to neutralize free radicals. In addition to this unmatched anti-oxidant protection Ferulic CE helps build collagen.
Ferulic C E contains
15 % pure L Ascorbic acid,
1% percent Alpha Tocopherol
0.5% Ferulic Acid
Benefits Of Skin Beauty Solutions Ferulic CE:
Ferulic Acid Serum C E is a revolutionary topical antioxidant combination that provides unprecedented 8 times the skin's natural photoaging protection. Skin Beauty Solutions Ferulic CE contains ferulic acid, a new antioxidant that doubles the synergistic benefits of 15% pure L-ascorbic Acid (Vitamin C) + 1% alpha tocopherol (Vitamin E) – neutralizing free radicals, building collagen, and providing unmatched antioxidant protection.
No other antioxidant technology has been shown to deliver comparable levels of photoprotection. More protection means more youthful looking skin and better defense against environmental aging.
Benefits of Ferulic Acid Serum:
Ferulic acid (FA) is found in the leaves and seeds of most plants, especially in the brans of grasses such as rice, wheat, and oats. It has strong antioxidant properties that make it especially useful in the formulation of anti-aging cosmetics.
Chemically reactive molecules known as free radicals are produced as byproducts of normal biochemical processes. Once produced, they are capable of damaging almost any biological structure they contact. Our cells are prone to free radical damage. In skin, this damage can be perceived as aging.
Ferulic acid is excellent at neutralizing free radicals, especially the free radicals known as "superoxide", "hydroxyl radical" and "nitric oxide". It also acts synergistically with other antioxidants to increase their efficacy. Interestingly, Ferulic Acid's antioxidant activity is boosted by exposure to UV light, indicating it may be helpful in protecting skin from sun damage.
Maximum anti-aging results – better than anyoneantioxidant alone
Neutralizes free radical damage and protects against oxidative stress – the factors that lead to premature aging, loss of elasticity, and hyperpigmentation
Delivers a maximum amount of antioxidants which provide a high amount of photoprotection to the skin.
Youthful looking skin and better defense against environmental aging.
Hydrating and Moisturizing
Once absorbed, can't be washed or rubbed off – excellent for use in conjunction with sunscreens
Benefits Of Vitamin C:
Vitamin C is an antioxidant and can help reduce skin damage caused by free radicals
Vitamin C is essential for the synthesis of collagen
It moisturizes and softens the skin
It encourages growth of collagen
It exfoliates and cleanses
It helps remove wrinkles / fine lines
Great for those suffering from acne and pimples
Vitamin C is an amazing antioxidant and its been proven to stimulate collagen production, protect against UV damage and help minimize fine lines and scars.
It is highly recommended that everyone apply Vitamin C onto the face daily since this protects against UV induced cell damage. It is this sun damage that not only causes premature aging but also skin cancers. However Vitamin C has other properties including being one of the few ingredients that has a science base to show that it reverses signs of aging to the skin.
Vitamin C is one of the most powerful anti-aging vitamins on the market. A potent anti-aging serum, vitamin C boosts collagen production, repairs existing sun damage, and improves the appearance of fine lines and wrinkles.  Getting a fresh supply of Vitamin c  ensures the best results.
Vitamin C (L-ascorbic acid), at a 10% concentration or higher and low ph has been shown to stimulate collagen, decrease wrinkle depth and have lightening effects on pigmentation.
REVIEWS (Verified Purchases)
:*¨¨*:•. •:*¨¨*:•.– This is a remarkable product!
By Katrina on August 15, 2011
I read on my doctor's website a compelling description of the benefits of ferulic acid with vitamin C. I was reluctant to buy the more expensive product because of reports that it had a foul odor. I opted for this product and have been using it twice a day for over a month. I am amazed by the improvement in my skin. It is softer, very evenly textured, and healthy looking.
I tested the product on the back of my left hand for one week and the improvement in skin color and texture was so noticeable that I then began using it on both hands. The consistency is a bit watery for use with a dropper. A spray might have been a better bet. Since the ferulic acid enhances the absorption of the antioxidants into deeper layers of skin, a lighter consistency must be required.
:*¨¨*:•. •:*¨¨*:•.– Firms and Tightens
Great Product!
By karenL. rosson October 11, 2013
Skin Beauty Solutions Ferulic Acid CE with Vit. C+E Serum is the best!! I am 51 years old and have used this product for about 3 years. It has made a huge difference in my skin. I use this every morning after showering. It works wonders and I even put it on my chest as well. My friends always ask me what I do to my skin. I would recommend this to anyone who is 40 or older. If firms my skin and gives it a nice smoothness (as well as works as an antioxidant against sun damage). I have used the more expensive "name" brands but this solution by Skin Beauty Solutions is the exact same product at a much more reasonable price. You should definitely try it!! I swear by it!
:*¨¨*:•. •:*¨¨*:•.– Look 10Years Younger
By Terri on November 19, 2012
Love it! I can see a difference, really evens skin tone
and makes your skin really soft after only 2 wks! I'm
on my third bottle! I look 10 yrs younger. Haha, Maybe
five. 🙂
:*¨¨*:•. •:*¨¨*:•.– Will Protect Your Skin
By Sheryl on July 7, 2014
I've been using this product for at least 5 years. I had photo-damage when I started using it and the sunblock 30, and the photo-damage has not gotten any worse. I'm out in the sun a lot and I find this product invaluable, I find it really protects my skin. You can't beat the price from this seller, compared to local retail stores.
Directions: Once in the morning after cleansing, apply 4-5 drops to a dry face, neck, and chest. Follow with a moisturizer and sunblock. Daily application of this Ferulic CE serum, along with the use of sunblock, offers ultimate protection from UV light and associated skin damage.
Ingredients:  Ferulic Acid , Ascorbic acid, hyaluronic acid, sorbitol, alpha tocopherol, and deionized water, propylene glycol, ceteareth-20, ethoxydiglycol, diazolidinyl urea, phenoxyethanol.
100% MONEY BACK GUARANTEE -WORKS OR YOUR MONEY BACK – Manufacturer's Guarantee: We back our products up with a 60-day hassle-free money back guarantee, no matter where you buy our product. There is absolutely no risk to you when you order now! If you are not completely satisfied, simply contact us and we will give you a full refund, no questions asked. Our #1 priority is to make sure our customers are completely happy.
High Quality, Low Price– We don't spend much money advertising, so we keep our costs down and can pass those savings onto you!
MADE IN USA – Skin Beauty Solutions Products Are Proudly Formulated Right Here In the USA in an FDA Registered Laboratory and Are Never Tested On Animals and are always Cruelty Free
Skin Beauty Solutions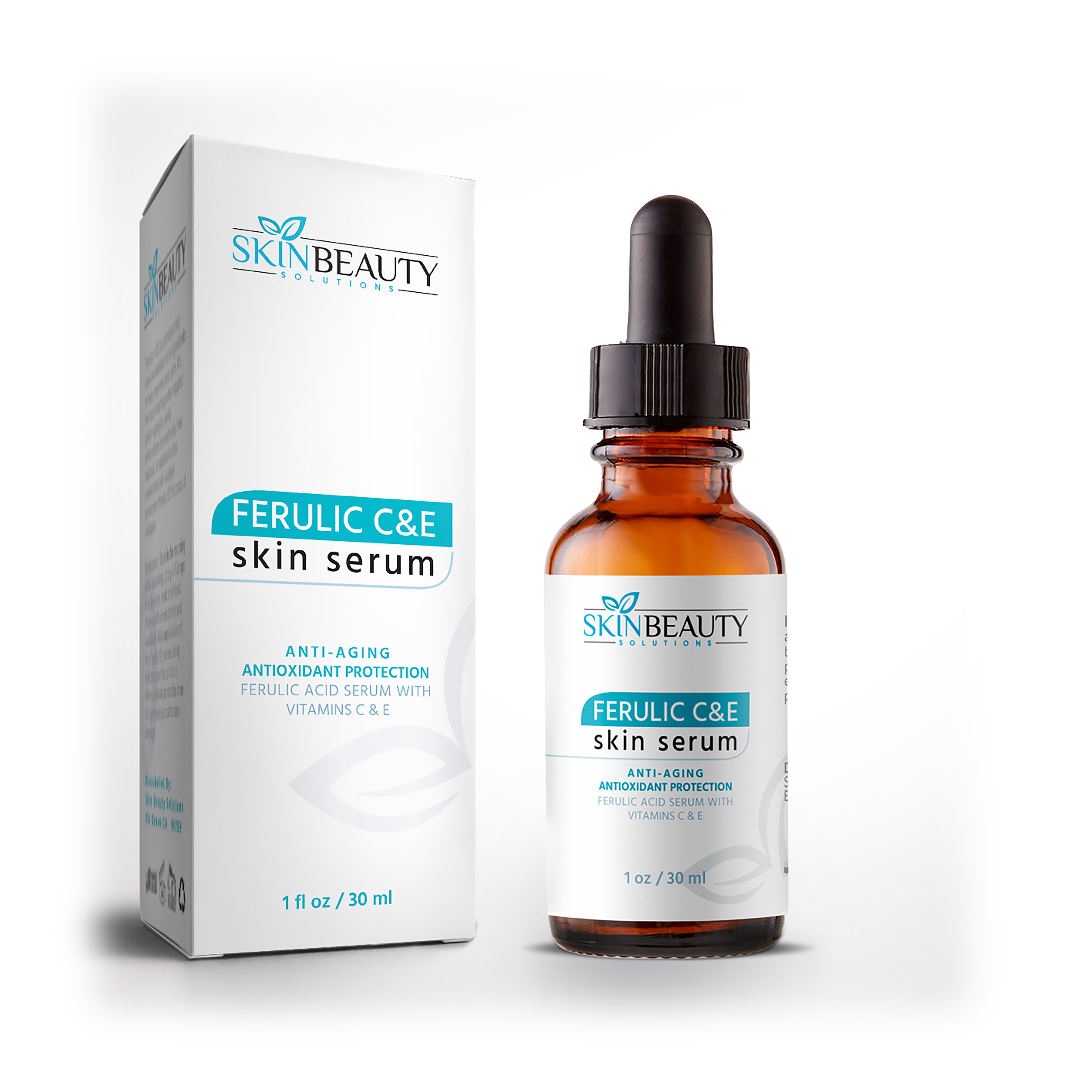 Rating





Brand Name
Product Name
Price
Skin Beauty Solutions
$39-$179
Product Availability