Best Selling HYALURONIC ACID Skin Serum – Pro Formula- 100% Pure Highest Quality Vegan Hyaluronic Acid – The Best Anti-Aging Anti-Wrinkle Serum on the Market- This Vegan Hyaluronic Serum will Plump &  Hydrate Dull Skin For A Youthful, Vibrant & Radiant Complexion. Reduces Wrinkles, Fine Lines & Skin Discoloration.   Provides Intense Hydration & Moisture.  Non-greasy, Paraben-free. 98% Natural, 85% Organic.
Problem Type/ Purpose:  Anti-Aging, Wrinkles, Dull Complexion, Dry, Itching, Cracking and Irritated Skin. Eczema and Psoriasis. Fixes Uneven Skin Tone.  Heals Dryness on Face. Skin Plumping Properties Helps Reduce Fine Lines and Wrinkles and Provide an Instantly Brighter Complexion.  Lightens Dark Under Eye Circles and Puffiness
Skin Types:  Combination, Dry Skin, Normal Skin, Sensitive Skin, Oily Skin, Fine Lines, Mature Skin, Wrinkles, Enlarged Pores, Sun Spots, Age Spots, Uneven Skin Tone. Safe for All Skin Types.
100% Pure & Simple.  All of our Skin Care Products are made with High Quality, Cosmetic and Medical Grade Ingredients. We use only the main ingredients for best results; We do not add any colors, fragrances, fillers, or any other unnecessary preservatives or ingredients.
Our Hyaluronic Acid contains Ultra Low Molecular Welght (ULMW) Hyaluronic Acid of less than 5,000 daltons.  This very, very low molecular weight improves its ability to penetrate the upper layers of the skin and provide the best results.
HIGHEST QUALITY HYALURONIC ACID SERUM AVAILABLE: Our natural and Organic Hyaluronic Acid is botanically formulated. We use only the best, plant-based ingredients available with no alcohol, and no animal testing. Vegan, Paraben-free, oil-free, no dyes, no fragrances or fillers . Non-greasy.  Dries fast and clear. Natural and paraben free.  More actives, less chemicals. Proudly made in the USA in an FDA Registered Facility.
DELIVERS IMMEDIATE MOISTURE & SKIN NOURISHMENT TO HELP YOU LOOK YEARS YOUNGER – Improves skin texture and brightness with intense moisture and balance. Hyaluronic is regarded as one of the best moisturizing ingredients available due to its moisture retention properties. Our 100% Pure Hyaluronic Moisturizer is the only product we recommend to apply to the skin immediately after a peel or derma needling. Other moisturizers contain minimal nourishing ingredients and several chemical additives which can harm the skin and negate the benefits of performing a peel. Skin Beauty Solutions Hyaluronic Moisturizer is oil-free so it is appropriate for all skin types, ranging from mature, dry skin to oily, acne/blemished skin. Dry skin types may wish to apply a cream to seal in the moisture.
SOOTHING & CALMING The soothing, calming properties of Hyaluronic Acid have also been shown to reduce dryness, itching and burning of the skin. Assists healing following Glycolic, Lactic and Salicylic chemical skin peeling, exfoliation and microdermabrasion. Hyaluronic Acid is also an excellent moisturizer for extremely dry, irritated skin, eczema and psoriasis, and for anyone with chemical allergies. Perfect for sensitive skin and children's skin. Can also be used to maximize skin peel results.
AMAZING HYDRATION  The unique properties of Hyaluronic Acid make it the ideal anti-aging treatment for a good skincare routine. Hyaluronic Acid plays an important role in tissue hydration, lubrication and cellular function. Incredibly, Hyaluronic Acid is able to hold more water than any other natural substance – making it one of the world's best moisturizers. Its unmatched hydrating properties result in increased smoothness and softening and a decrease in wrinkles. This intense moisturizer not only leaves skin looking radiant, but it also plumps and fills in fine lines and wrinkles. See a noticeable difference with visibly plumper, softer and smoother skin . Get Instant and Immediate miniaturization of dry or flaking skin within moments of using Hyaluronic Acid Serum.
REVIEWS(verified purchases)
:*¨¨*:•. •:*¨¨*:•.– Has Changed My Skin!  —Kelly on January 27, 2012
After just celebrating my 25th birthday I suddenly noticed my once oily skin becoming increasingly dry and flaky. I read about pure hyaluronic acid moisturizer gel on The Beauty Department after Lauren Conrad's makeup artist specifically recommended this brand. Needless to say, am very satisfied with how moisturized and soft my skin feels after I shower every morning (and before I put on SPF 30 or higher) and plan to order more of this stuff once it's re-stocked.
:*¨¨*:•. •:*¨¨*:•.– it really works!,- Jessy SmithApril 9, 2014
Ok, I have been trying to get rid of my fine lines under my eyes for quite a while now… I have used Vitamin c products, retinol products, moisturizers, etc. and nothing really worked. I smoothed this over my entire face last night including under my eye area and wow… I could actually see the difference in the smoothness of my under eye area. The lines were much less noticable than before. This morning I used it again… and same thing. My skin felt very soft and the under eye are was so much more smooth. Interested in what a few weeks will do! I'll keep you posted.
:*¨¨*:•. •:*¨¨*:•.–  Would NOT be without Hyaularinc Serum!  Jena Johnson-March 29, 2014
This is a staple in my cosmetic bag! I cannot run out of this product as the elasticity in the skin depends on this serum! It is an incredible maintenance product to help defy the signs of aging. Not only do I use it, my former husband uses it!
:*¨¨*:•. •:*¨¨*:•.– EXCELLENT PRODUCT, AWESOME RESULTS, TOTALLY THRILLED!!,–Helen Torez- March 10, 2014
I have some early signs of wrinkles in my forehead and this product is amazing! It is cheap also .. Other big cosmetics companies sell products with this as a main ingredient for much more! this hydrate the skin, you should use it before your moisturizer (dont use it alone) you will notice the difference in few days..
I am so bummed though because i am pregnant now and cant use it 🙁 i read that its not proven to be harmful but better to be in the safe side..
:*¨¨*:•. •:*¨¨*:•.– This really works,- Joanne  March 1, 2014
This is a fantastic product that I've been using for a little less than a year now. I have combination skin (very oily t-zone, normal cheeks) and even though my skin would always be oily, it would still feel tight and be flaky. Applying moisturizers didn't really work – they just sat on top of my skin and didn't solve anything. Ever since learning the difference between dry skin (needs oil) and dehydrated skin (needs water/moisture) everything has started to make a lot more sense to me. It became apparent to me that I have dehydrated oily skin and that I needed to use hydrating products, not just any moisturizer. The ingredient best known to add/retain moisture to the skin is hyaluronic acid. It is in tons of moisturizers, but my skin is very clog prone and instead of trying dozens of creams hoping to find one that didn't clog me, I just opted for this pure hyaluronic acid instead. It's not actual pure hyaluronic acid, but hyaluronic acid is the main ingredient and it has very few other ingredients (Hyaluronic Acid, distilled water, potassium sorbate, citric acid). So the chances of it breaking anyone out are very small.
Results: in the beginning I didn't really notice much of a difference in my skin since using this. It felt exceptionally soft, but I didn't actually see a difference. I just kept using it though, but once I went on a vacation I did not take it with me to save on weight. While on vacation I noticed my skin getting less 'nice', but didn't think it was because I stopped using this product. Back home however, I started using this again and then I noticed the difference. My skin was getting nicer again. I've been using it twice daily ever since and I've been loving it. The results have been very gradual, but now I notice that my skin is a lot happier. The main thing I've noticed is that my skin just feels a lot more balanced. It feels comfortable, even without moisturizer, and the flakes are gone. I also noticed that my skin has actually gotten less oily. I still have oily skin and I still need to wear powder and blot during the day, just less often than before.
The product comes in in a dark glass bottle with a pipette. It's very hygienic and easy to use. I just squeeze out 3 drops and that is plenty for my face and neck. The product itself is called a gel, but it is much more liquid than that. It's only slightly thicker than water. When you apply it feels as if you just applied water to your face, except it sinks in right away.
As someone with oily skin I -hate- the feeling of having a layer of product on my face, and I can safely say that this literally feels as if you have nothing on your face. It's gone instantly. So even though I hate adding layers to my face, I don't really see this as an extra step and I have no problem using it day and night.
A thing that I read about hyuluronic acid though, is that it pulls moisture to your skin from the air. But if the air is very dry then it will not work and might it might actually make it worse (by pulling the moisture out of your skin). So to make sure it works properly, it's best to apply it to damp skin. That way you're sure there's always water available to the hylaronic acid to hold on to. Used like that, it has really helped my dehydrated skin.
The price of this product is a steal. It's only 18 dollars and you only need a few drops each time, so it lasts a long time. I'm on my 3rd bottle.
Also nice: it's the perfect base for a DIY vitamin C serum. In the PM I like to add a bit of ascorbic acid to the serum on my hand, wait a minute for it to dissolve and then apply my fresh vit C to my face. When I do this I use 4 drops of the serum instead of 3.
Overall this is a great product if you have dehydrated skin, for a great price. Don't expect miracle results right away though, give it some time.
Directions: Using gentle, upward circular motions, apply desired amount onto clean skin. Follow with facial moisturizer or cream. Dry skin types may wish to apply a cream to seal in the moisture. Safe to apply A.M. or P.M.
Ingredients: Botanical Hyaluronic Acid, Kosher Vegetable Glycerin, Distilled Water, Potassium Sorbate, Citric Acid. 99% Natural. 85% Organic.
100% MONEY BACK GUARANTEE-WORKS OR YOUR MONEY BACK – Manufacturer's Guarantee: We back our products up with a 60-day hassle-free money back guarantee, no matter where you buy our product. There is absolutely no risk to you when you order now! If you are not completely satisfied, simply contact us and we will give you a full refund, no questions asked.  Our #1 priority is to make sure our customers are completely happy.
High Quality, Low Price– We don't spend much money advertising, so we keep our costs down and can pass those savings onto you!
MADE IN USA – Skin Beauty Solutions Products Are Proudly Formulated Right Here In the USA in an FDA Registered Laboratory and Are Never Tested On Animals and are always Cruelty Free
Skin Beauty Solutions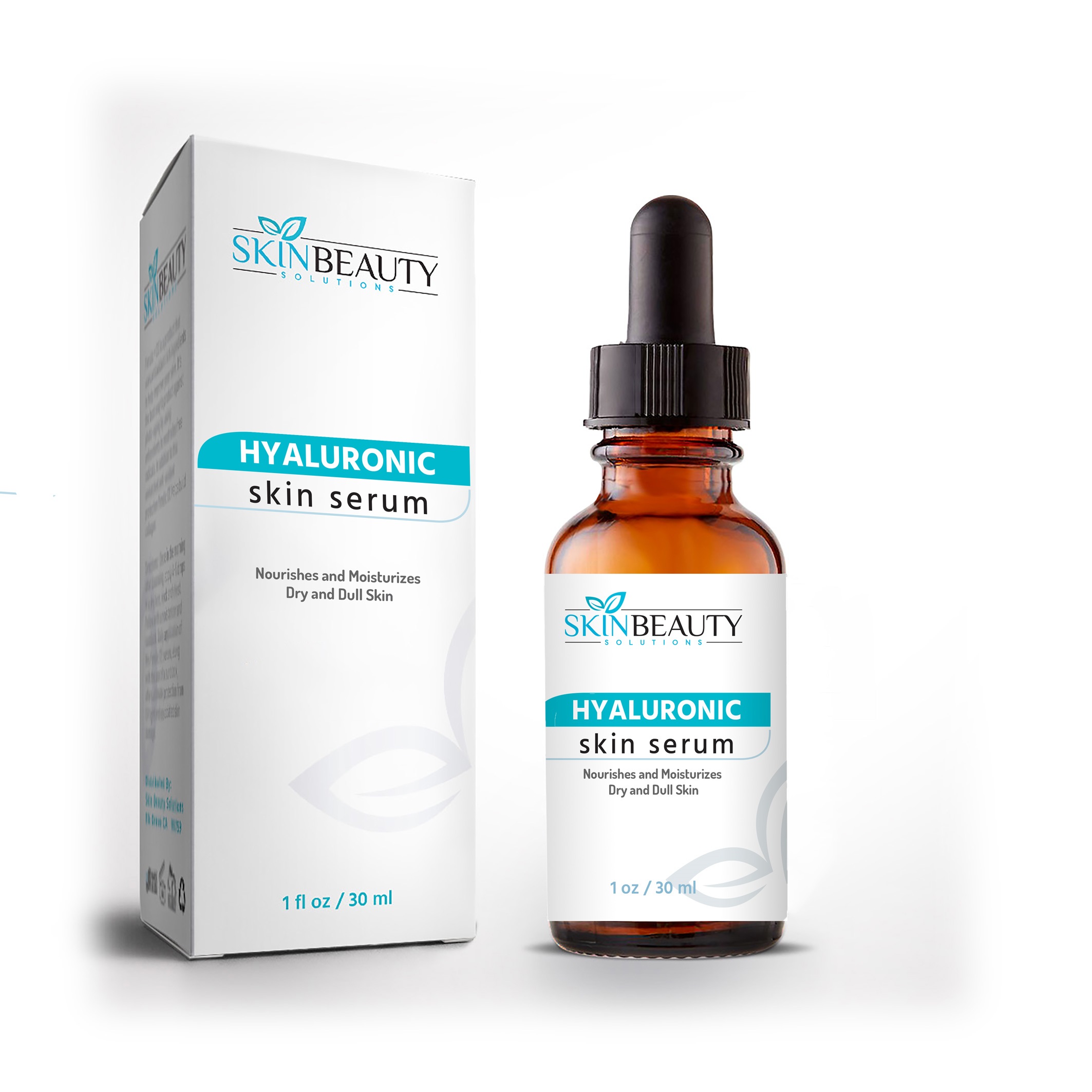 Rating





Brand Name
Product Name
HYALURONIC ACID Skin Serum
Price
Product Availability