Rooibos Eye Creme- Hyaluronic & Blue-Green Algae – for DARK CIRCLES, BAGS, WRINKLES- Banish Bags, Dark Cricles, and Puffiness
Problem Type/ Purpose: Treat Anti-Aging. Dark Circles, Bags, Puffiness around the Eyes
Skin Types:  Mature – Dry – Normal – Sensitive – Combination
A gentle and rich crème, enhanced with Hyaluronic acid , Lavender, Blue-Green Algae, Calendula, Rooibos & Pomegranate extracts and Evening Primose to retain moisture in the tender and delicate skin around your eyes. Contains active ingredients that work synergistically to balance, soothe, regenerate and supply moisture.
Benefits
reduce dark circles and puffiness around the eyes
retain moisture in the tender and delicate skin
promotes new skin growth,
decreases fine lines and wrinkles,
helps to smooth rough skin
Key Ingredients
Aloe Vera Juice (organic) 
Often called "The Miracle Plant", promotes new skin growth, moisturizes, protects and counters the effects of aging, soothing, emollient, anti-bacterial, heals skin irritations, burns and wounds. Aloe Vera improves hydration and is soothing and healing to all skin types. The effectiveness of Aloe Vera gel as a cosmetic skin care and pharmaceutical product is indisputable. It has also been shown to have an invigorating effect on skin when applied on a regular basis. Chemical analysis has shown the presence of mucopolysacharides, a natural moisturizing factor. Aloe Vera is composed of water, the enzymes catalase and cellulose, minerals, calcium, aluminum, iron, zinc, magnesium, sodium, 20 amino acids and carbohydrates. Aloe Vera also contains the "youth mineral" potassium.
Blue Green Algae Extract (organic)
A kosher certified fine free flowing dark blue green powder. Free of pesticides, synthetic dyes and preservatives. Blue Green Algae is a wild harvest organic certified single cell microscopic organism which occurs in the remote area in the Oregon Cascade Mountains. It is highly bio-available and contains a full spectrum of minerals, chlorophyll, B Vitamins, Beta-Carotene, Pro Vitamin A, Lipids, active enzymes, essential amino acids, nucleic acids, DHA and EPA fatty acids.
Calendula officinalis Extract (organic)
Best known for its wound-healing and anti-inflammatory properties, antimicrobial.
Evening primrose oil
anti aging properties, helps to reduce and lessen the signs of aging decreases fine lines and wrinkles, helps to smooth rough skin, aids in repairing the skin and helps skin elasticity.
Hyaluronic Acid
The unique properties of Hyaluronic Acid make it the ideal anti-aging treatment for a good skincare routine. Hyaluronic Acid plays an important role in tissue hydration, lubrication and cellular function. Incredibly, Hyaluronic Acid is able to hold more water than any other natural substance – making it one of the world's best moisturizers. Its unmatched hydrating properties result in increased smoothness and softening and a decrease in wrinkles.
Jojoba Oil (organic) 
Wonderful natural moisturizer similar to human sebum so it is accepted very well by the skin. It aids in the healing process.
Lavandula x intermedia 'super'(Organic Lavender) Extract 
considered one of the best plants of the lavandins, maintaining most of the same properties of the mother plant, true lavender. It has good antibacterial, antifungal, anti-inflammatory and antiviral properties.
Olive Oil (organic)
Great skin moisturizer, contains linoleic acid which prevents water from evaporating. According to Leslie Baumann, M.D., author of The Skin Type Solution, olive oil can promote healthy skin and also contains at least four different antioxidants, which can help "neutralize damaging free radicals that can lead to skin aging and skin cancer."
Pomegranate Extract (organic)
Pomegranate falls into the "superfruit" category because of its exceptional nutrient value and antioxidant properties. It contains ellagitannins, which are powerful polyphenols, valued for the exceptional free-radical scavenging abilities. Dr. Farrukh Afag, lead Researcher at the University of Wisconsin said, "For the first time, we have clear evidence that pomegranate extract possesses anti-skin-tumor-promoting effects. With such a variety of pathways inhibited by the topical application of the natural supplement, we are confident of its therapeutic value."
Rooibos tea extract (organic)
Recommended for wide range of ailments including skin problems such as eczema, diaper rash and acne because applied topically it has a soothing effect on the skin. Rooibos tea is low in tannins, high in minerals such as calcium and fluoride. The most important aspects of Rooibos are its antioxidant, anti-inflammatory and antimicrobial properties. Recently, Japanese scientists found that Rooibos tea contains a mimic of the enzyme Super Oxide Dismutase (S.O.D.), an antioxidant which attacks the free radicals and limits their damaging effects.
Vitamin E 
Natural skin protector, natural emollient, helps keep skin smooth and soft, improves skin moisture by offsetting dryness caused by aging and environmental factors. Acts as a free radical scavenger, hinders the oxidizing process in the skin and promotes soft and supple skin. As an antioxidant it defends the skin. Helpful in reducing scars and promotes healing. It acts as a natural preservative for products.
Directions for usage as facial creme: Moisturize your face and neck with creme every morning and/or night, after you cleanse and tone. Always moisturize your face and neck in upward motions. Moisturizing is important for all skin types. In every step of skin care, always use circular, upward motions with a gentle touch on your face. Don't help gravity by tugging down on your skin, and remember that the skin on your face loves you, so you should love it.
Directions for usage as under eye creme: Eye cremes are designed to highly moisturize the finest skin on your face. When you apply eye cremes, always use your ring finger or pinky to apply products around the delicate area of your eyes. Your pinky and ring finger are weak by nature and force you to apply gentle pressure.
Ingredients/Tech Specs:
Aloe barbadensis (Organic Aloe) Juice, Olea europaea (Organic Olive Oil), Organic Jojoba Oil,  Organic Lavender, Emulisifying Wax,Palm Stearic Acid, Aspalathus, Organic Rooibos Tea,  Evening Primrose Oil, Tocopherol (Vitamin E) , Organic Pomegranate Tincture, Hyaluronic Acid, Organic Calendula Extract, Aphanizomenon flos-agua (Blue Green Algae),  Xantham Gum, Citric Acid.
100% MONEY BACK GUARANTEE -WORKS OR YOUR MONEY BACK – Manufacturer's Guarantee: We back our products up with a 60-day hassle-free money back guarantee, no matter where you buy our product. There is absolutely no risk to you when you order now! If you are not completely satisfied, simply contact us and we will give you a full refund, no questions asked.  Our #1 priority is to make sure our customers are completely happy.
High Quality, Low Price– We don't spend much money advertising, so we keep our costs down and can pass those savings onto you!
MADE IN USA – Skin Beauty Solutions Products Are Proudly Formulated Right Here In the USA in an FDA Registered Laboratory and Are Never Tested On Animals and are always Cruelty Free
Skin Beauty Solutions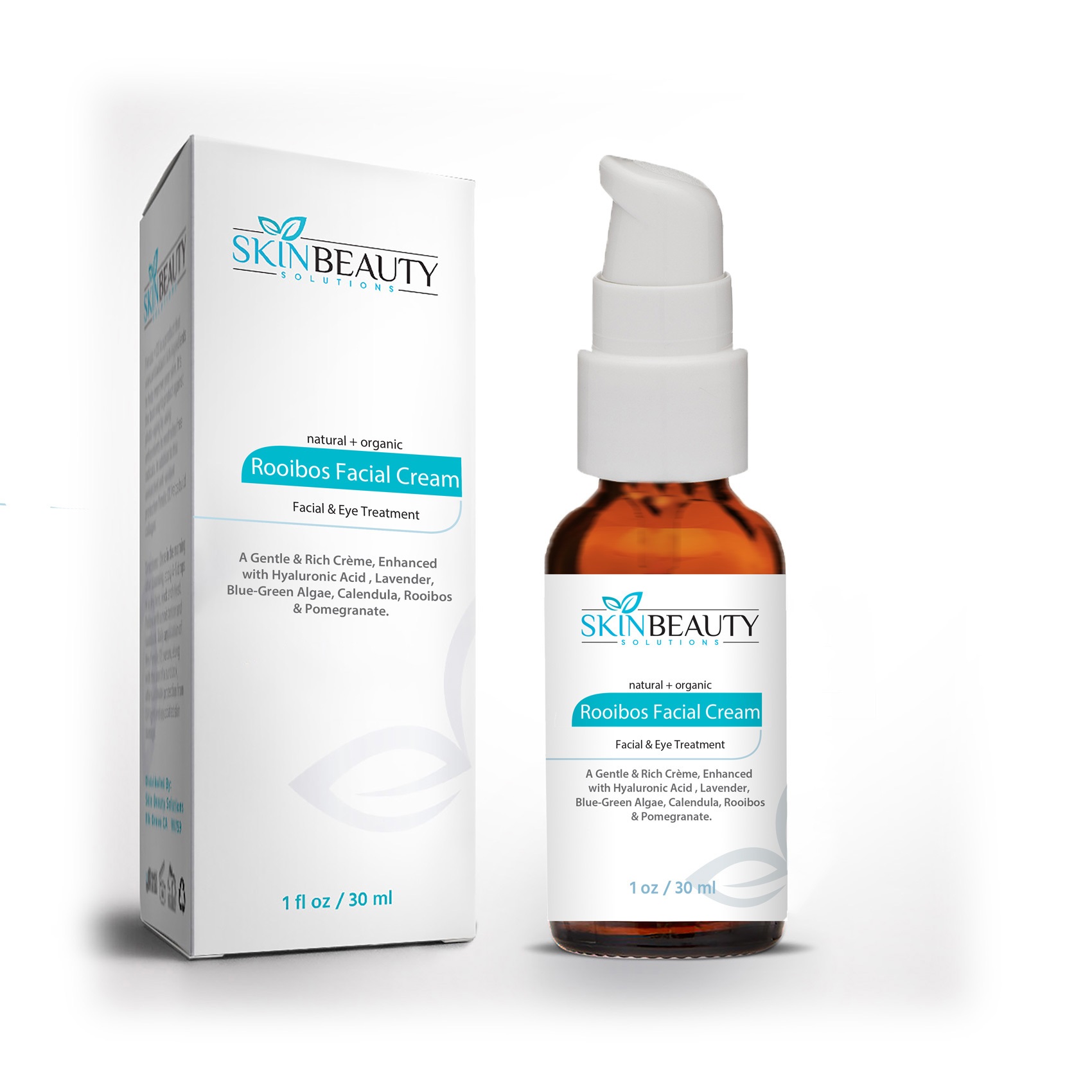 Rating





Brand Name
Product Name
Price
Product Availability