VITAMIN -C 25% Anti-Oxidant Skin Face Serum – Organic (L-Ascorbic Acid) plus Vegan Hyaluronic Acid –Professional Strength for Anti-Aging, Sun damage, Sun Spots & Even Skin Tone. Clear Serum. Leaves Skin Radiant and More Youthful By Neutralizing Free Radicals. Made Fresh to Order.
(compare to Obagi , Skinceuticals and Cellex c) Intense Antioxidant Protection, Complexion Correction, and Age Control
Problem Type/ Purpose: Anti-Aging, Hyperpigmentation, Antioxidant Rich. Prevents Acne, Sun Damage, Sun Spots, & Age Spots
Skin Types: Combination, Dry Skin, Normal Skin, Oily Skin, Acne Prone Skin, Mature Skin.
Get a Fresh Dose of Vitamin C. Made Fresh Daily.
• Contains a high concentration of Vitamin C to neutralizes free radicals at all layers of the skin before they damage skin cells and accelerate aging.
• CRUELTY-FREE, ORGANIC vitamin c serum does not contain alcohol, parabens or sulfates and is safe for all skin types.
• Highly Concentrated Professional-C serum with Vitamin C (L- Ascorbic Acid), neutralizes free radicals at all layers of the skin before they damage skin cells and accelerate aging.
• Provides superior antioxidant protection with deep penetration.
• Specially formulated, fragrance-free and oil-free for resilient, acne-prone skin types
Refresh your skin with Skin Beauty Solutions Pure Organic Vitamin C Serum. The acidity of L-Ascorbic Acid will exfoliate and promote skin renewal, help restore elasticity to aging skin, promote collagen synthesis, protect against UV Damage, reduce redness, promote wound healing, suppress melanin synthesis, and more.
Vitamin C is an amazing antioxidant and it been proven to stimulate collagen production, protect against UV damage and help minimize fine lines and scars.
It is highly recommended that everyone apply Vitamin C onto the face daily since this protects against UV induced cell damage. It is this sun damage that not only causes premature aging but also skin cancers. However, Vitamin C has other properties including being one of the few ingredients that have a science base to show that it reverses signs of aging to the skin.
Vitamin C is one of the most powerful anti-aging vitamins on the market. A potent anti-aging serum, vitamin C boosts collagen production, repairs existing sun damage, and improves the appearance of fine lines and wrinkles. Getting a fresh supply of Vitamin censures the best results.
Vitamin C (L-ascorbic acid), at a 10% concentration or higher and low ph has been shown to stimulate collagen, decrease wrinkle depth and have lightening effects on pigmentation.
Benefits Of Vitamin C:
Vitamin C is an antioxidant and can help reduce skin damage caused by free radicals
Vitamin C is essential for the synthesis of collagen
It moisturizes and softens the skin
It encourages growth of collagen
It exfoliates and cleanses
It helps remove wrinkles / fine lines
Great for those suffering from acne and pimples
Why are Vitamin C serums so popular?
The active ingredient in Vitamin C serums, L-ascorbic acid, has been proven to prevent and repair free radical damage to the skin, protect against UV sun damage, and stimulate collagen production. All of these benefits add up to a great anti-aging product.
Benefits of Hyaluronic Acid:
AMAZING HYDRATION
The unique properties of Hyaluronic Acid make it the ideal anti-aging treatment for a good skincare routine. Hyaluronic Acid plays an important role in tissue hydration, lubrication and cellular function. Incredibly, Hyaluronic Acid is able to hold more water than any other natural substance – making it one of the world's best moisturizers. Its unmatched hydrating properties result in increased smoothness and softening and a decrease in wrinkles.
SOOTHING & CALMING
The soothing, calming properties of Hyaluronic Acid have also been shown to reduce dryness, itching and burning of the skin. Assists in healing skin following AHA chemical skin peeling, exfoliation and microdermabrasion. Hyaluronic Acid is also an excellent moisturizer for extremely dry, irritated skin, eczema and psoriasis, and for anyone with chemical allergies. Perfect for sensitive and children's skin.
POWERFUL CELL NOURISHER
Hyaluronic Acid offers an excellent environment for the growth of new cells, and is a major constituent of the extra-cellular matrix surrounding rapidly dividing cells. It has been shown to be an integral component in the rapid and scarless wound healing observed in fetal and neonatal organisms. In addition, the cellular actions precipitated by Hyaluronic Acid are integral to the seemingly magical biochemistry of fetal development.
It is well documented that fetal tissues contain large amounts of Hyaluronic Acid and that decreasing Hyaluronic Acid content correlates with aging and wrinkling. Therefore practical attempts to prolong and recapture youth by revitalizing damaged tissue should include this molecule.
Product Reviews: (verified purchases)
:*¨¨*:•. •:*¨¨*:•.– Love This
By Mary Lord on December 3, 2014
I LOVE this new C Serum. It goes on very silky and gives my skin a matte shimmery glow.
:*¨¨*:•. •:*¨¨*:•.– Wow, Best Product Ever Used
By Mariga on January 12, 2015
I gave this to my mother to try as she is a smoker and has lots of medical condition requiring mountains of meds so her skin is always a little dull, dry and grey, if unlined. After a month she reported getting lots of compliments on her skin and it was brighter and smoother, her skin just transformed and is smooth and radiant.
:*¨¨*:•. •:*¨¨*:•.– Tightens Skin and Pores
By Carrie S. on November 17, 2014
I have purchased this product many times. It tightens your skin after cleansing and aides in healing scars, tightening pores and gives your skin an overall glow. In the summer months, I wear under a tinted moisturizer with sunscreen and that's it. No make up. The C serum in the best for promoting collagen in your skin.
:*¨¨*:•. •:*¨¨*:•.– My second purchase and truly love it
My second purchase and truly love it
By hilda on February 4, 2014
My skin has been brighter, firmer and refreshed. My friends comment all the time. I will truly continue to use this item
Facts about vitamin C serums
Consumer beware – not all products contain sufficient vitamin C to be of benefit. Most products on the market do not have sufficient concentration to be of benefit to the skin. Many companies, keen to cash in on the market trends for antioxidants in skin care, put only minuscule amounts in the product, and consumers unknowingly will buy a product that will be of no benefit. Unfortunately, you cannot judge from the prestige or price of the product you buy, you need to look at the concentrations.
Vitamin C does not work for everyone for reasons that are not yet known; It may only be 70% of the population who get the age reversing benefits of vitamin C. Vitamin C, however, is a potent antioxidant and you still should get the benefits of protection from UV induced cell damage even if it does not keep you looking younger.
Vitamin C in the form of Ascorbic Acid is a very expensive Vitamin C and is very unstable and difficult to get into a formulation, this in part explains why ascorbic acid skin products tend to be very expensive.
Directions: Apply Vitamin C twice daily. Vitamin C is an unstable form of Vitamin C and must be used within two months of purchase.
Vitamin C can irritate the skin, if burning occurs, rinse the serum off and try a 5-10% solution next time. Apply 5 to 7 drops of Vitamin-C Serum to the face, neck and chest using fingertips. Apply to cleansed skin in the morning before sunscreen and makeup application. A slight tingling may occur in some people, which diminishes with continued use.
Indications
Store in a cool, dark place. Unopened bottles may be kept in the refrigerator. This serum is clear and clean, with a water-like consistency
Remember to try this and any serum first on the inside of your arm. Rinse well if you feel any discomfort. Always use sunscreen, sun protection is the most important skin care available, and exfoliation may increase skin sensitivity. This product may not be suitable for sensitive skin due to its high acidic content.
Ingredients: Pure High Potency Organic L -Ascorbic Acid, Hyaluronic Acid (Botanical), Potassium Sorbate, and Citric Acid.PH 2.5
100% MONEY BACK GUARANTEE-WORKS OR YOUR MONEY BACK – Manufacturer's Guarantee: We back our products up with a 60-day hassle-free money back guarantee, no matter where you buy our product. There is absolutely no risk to you when you order now! If you are not completely satisfied, simply contact us and we will give you a full refund, no questions asked.  Our #1 priority is to make sure our customers are completely happy.
High Quality, Low Price– We don't spend much money advertising, so we keep our costs down and can pass those savings onto you!
MADE IN USA – Skin Beauty Solutions Products Are Proudly Formulated Right Here In the USA in an FDA Registered Laboratory and Are Never Tested On Animals and are always Cruelty Free
Skin Beauty Solutions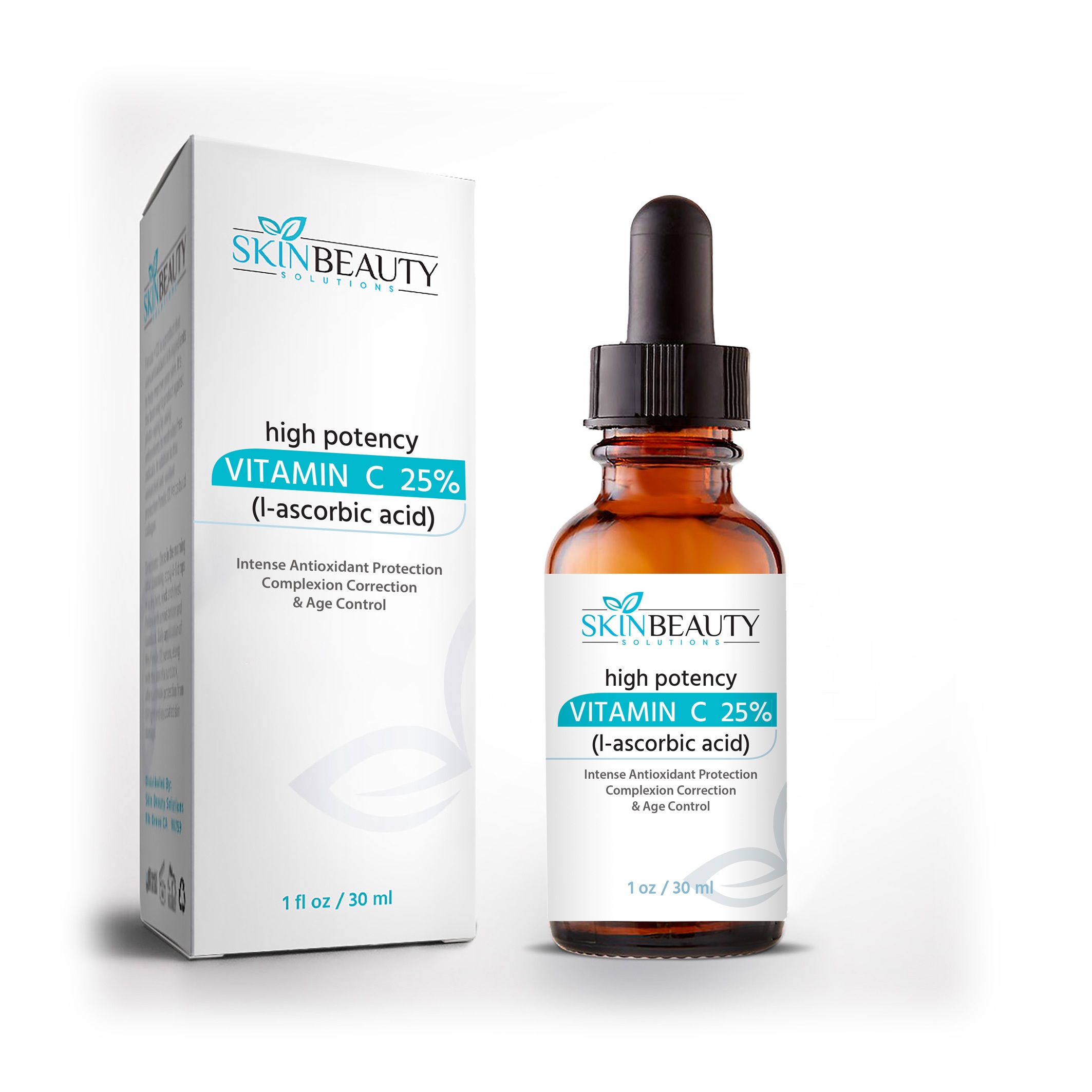 Rating





Brand Name
Product Name
Price
Product Availability