Derma Roller Cosmetic Needling Instrument For Face and Body | MRS 540 Titanium Micro Needles in .25 mm .50 mm 1.00 mm sizes with Storage Case- rebuild collagen fibers, treat hyperpigmentation, fade acne scars, treat hair loss, cellulite, and wrinkles
The Derma Roller Cosmetic Needling instrument is a skin rejuvenation device that when used with an effective skin treatment infuses the dermis with potent vitamins and anti-oxidants to rejuvenate and revitalize the skin. The microneedle skin massager will stimulate collagen production and help to infuse active cosmetics into the skin. The microneedle skin care system consists of the round drum inlaid with 540 tiny needles coated with titanium vapor, that makes them extremely strong and hypo-allergic. Titanium vapor coating is used for surgical implants and approved for medical use. The roller is sterilized and comes in a sealed bag.
Microneedle therapy uses 540 slender titanium needles to puncture more than 25,000 microvessels on the epidermal within five minutes, this forms an efficient nutrient delivery system in the epidermis layer of the skin, with which active ingredients can enter the skin more efficiently. This layer is the main skin barrier and as part of its protective function prevents skin care topical to penetrate deeper as well. Microneedles make micro punctures through the skin to stimulate new collagen production. The thickness of the top skin layer (epidermis) is 0.08-0.5mm on the face.
When used on the head (scalp), the Derma Roller also stimulates the scalp and hair to maintain its thickness and help with thinning and balding hair areas. Dramatic results can be seen within 1-3 weeks. The aging process can be cruel to our skin. Between sun damage and progressive collagen loss, the skin loses its plumpness and resiliency.
Applications:
Stretch Mark Removal and Stretch Mark Treatment
Acne Scar Removal
Anti Wrinkle Treatment / Anti Aging
Hair Loss Treatment or Hair Restoration
Surgical Scar Removal
Cellulite Treatment and Cellulite Reduction
Length and Function:
0.25 mm:  perfect for cosmetic applications
0.5 mm: prevent hair loss, wrinkles, and pigmentations of the skin
1.00 mm: remove wrinkles, body scars, burns,  small injury scars, and acne scars
Things to Know About Micro needle skin care system
Micro needle skin care system is good for skin complexion improvement, wrinkle reduction and face rejuvenation.
Micro needle skin care system is the best choice for facial treatments due to specific skin thickness on the face.
Micro needle skin care system will increase skin permeability without harming the underlying capillary system.
Micro needle skin care system is best to be used with professional skin care concentrates to ensure the safety and effectiveness of the treatment.
Advantages of the MRS 540 Derma roller
How is The 540 Needles Skin Roller Superior to Other Rollers?
Extra needles per head, the Skin Derma Roller has 540 needles per roller head, in comparison with the standard roller that has less than 200 needles per head. With extra needles, you will have greater penetration in much less time.
Thinner Needle Thickness – The needle thickness is 0.20mm, in comparison with the standard needle thickness of 0.25mm, which means you should have much less discomfort throughout the needle therapy. Needle shape leads to less discomfort as well.  The diamond shape of the 540 Needles leads to less pain compared to the standard round shaped needle of other skin rollers. This is because the thickness of the spherical-shaped needle is twice as large as the diamond shape needle of the 540 Needles Derma Roller.
Our Microneedle Derma Roller is easy to use!
For the best experience, use in combination with your favorite skin treatment to promote healthy looking skin.
Safety First! Sterilize the roller in an alcohol solution before and after each use.
Wash your skin and pat dry.
Roll the Derma Roller over the desired area, back and forth, 4-5 times.
Be careful to apply pressure without puncturing the skin.
Switch direction and roll back and forth for another 4-5 times.
After rolling, apply a moisturizer or repairing serum.
Don't forget to sanitize and store in the provided plastic case!
For optimal results use once to twice a week.
Replace the roller every 1-2 months if using regularly
:*¨¨*:•. •:*¨¨*:•. Amazing!— By Samantha , August 22, 2014
100% MONEY BACK GUARANTEE-WORKS OR YOUR MONEY BACK – Manufacturer's Guarantee: We back our products up with a 60-day hassle-free money back guarantee, no matter where you buy our product. There is absolutely no risk to you when you order now! If you are not completely satisfied, simply contact us and we will give you a full refund, no questions asked.  Our #1 priority is to make sure our customers are completely happy.
High Quality, Low Price– We don't spend much money advertising, so we keep our costs down and can pass those savings onto you!
MADE IN USA – Skin Beauty Solutions Products Are Proudly Formulated Right Here In the USA in an FDA Registered Laboratory and Are Never Tested On Animals and are always Cruelty Free
Skin Beauty Solutions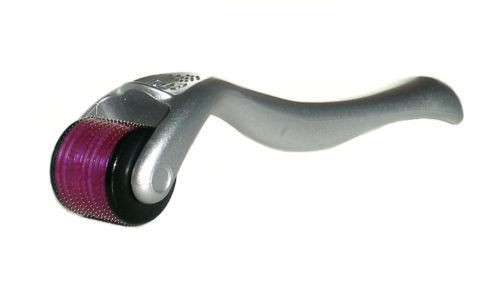 Product Name
Price
Product Availability